Discussion Starter
·
#1
·
We all know how it is, to sell off your beloved, only to realize too late you never should have. So went my search for a Black MKI with little/no rust. Recently that search ended, but it simply wouldn't go without it's abused sibling coming along. So now, comes the tale of two 2's revival!
MR2 #1 -'86 (black)
- aka 'lil Raven' , In pretty good condition, but a few rough spots.
Favorite Pastime
: "Sitting in the barn, and dreaming of twisties" - Supposedly only needed rings/rebuild, but the investigation is proving to be depressing.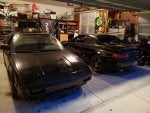 MR2 #2 - '86 (black/red)
- aka 'po bastad', Is in SAD shape.
Favorite Pastime
: "Enjoying all the little creatures that chosen to live in me." - Has the typical rust, in all the typical places. Big driver's side damage, and missing a few body parts. (Driver's Fender, bumper cover, good bumper, front valence, etc...)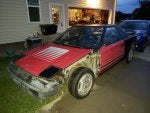 (NOTE: You should have seen the mold/dirt/filth after sitting outside under tree for who knows how many years. ALSO it was from VA, and says "Drifted Daily" on the rear window....somehow I doubt that...
Funny enough, #1 has several past red parts repainted black (hood/HL covers/front rad support), and #2 is a black base w/several red parts (door/hood/etc..) In the end they are both black base vehicles (which makes sense for a parts car.)
Day 1- Arrival
Quote of the day - "Holy **** It's got no brakes!!! AIiiiiieeeee" - Tow Driver riding it off trailer. That about sums up the day...as it was immediately telling that the "good condition" MR2 had much amiss. Dried out brake & clutch master cylinder reservoirs! OH NOES! Funny enough the red/black "parts" car, the brakes and clutch work fine!!
Didn't do much except give each one a thorough bath (pics above after), and tried to clean out all the interior spidey friends...(good thing I don't have arachnophobia!!). The amount of crud & mold I removed from #2 ZOMG! (P.S. Don't you like those "slicks"! lol)
Day 2- Interior Clean up
Quote of the day - "I, I, just don't understand what you're going to do with 4 cars!" - Wifey I pulled #1 into the garage and began to attack the filth/build up in the interior. It took a whole bottle of armor all cleaning wipes!! Pretty nasty. The driver's door panel has significant build up that took a couple goes to get decent. Then I went ahead and vacuumed everything
cough/gags
proceeded... It has the gray seat trim, which I don't care for... much prefer blue/red accented and #2 has blue seats, so I may swap them. Behind the seats was some form of custom (must have looked nice at one time) speaker box. It's starting to rot...so yeah, out it goes.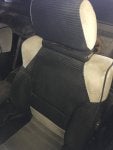 Wish I had taken before pics, but forgot, so here are a few after the clean up.
Day 3- How to avoid HoA complaints
Having #2 outside for long, violates our HoA agreement of no unregistered/current vehicles visible on property. So yeah... since I wasn't planning on two 2's, I took a few measurements. Praise be these cars are so small, and my garage so... well you get the idea. Some Harbor Freight wheel dollies, and problem solved!