Discussion Starter
·
#1
·
RE: turbo oil feed line - quite possibly the DUMBEST THING I have ever done
First off, it's midnight. And I have to go to work tomorrow.
No matter. I have to share this with you all while it's fresh. I invite you all to laugh at me. Not WITH me, at me.
Here's the story.
I recently decided to replace my oil line to my TD06 with a smaller, -3AN size in the hopes of reducing the amount of oil in my IC piping, etc.
I had a local shop make me a -3 line that was slightly shorter than my existing line, since it looked about 1" too long and the routing wasn't optimal.
Cool, easy enough. So I go to reinstall the line with the old adapter - not really the right part, I'd used a 3/8" NPT fitting instead of the correct M18 1.5 metric, but it worked for many thousands of miles with no leaks - and WTF? The line is like 2 1/2" too short now.
How is this possible? How did a line that used to be 1" too long get to be 2 1/2" too short after having less than an inch taken off it? I can't figure it out. Back to the shop, have another line made, 3" longer than the last.
I install the 2nd line. Everything looks good. I fire up the car, and watch the oil pressure gauge and the OEM oil pressure idiot light. Hmm, car has been idling for 2-3 seconds, no oil pressure on the Autometer, oil light is still glaring red. I shut it down.
Get out, look under the car - there's a HUGE pool of oil under the engine. Crap. And it's getting bigger as I stare in horror and disbelief. Double-crap.
I spend much time mopping up motor oil and being exceptionally pissed.
Since there's no oil anywhere up top near the turbo, I assume my old 3/8" NPT adapter must not be sealing so well this time, even though I used plenty of teflon tape and it felt fine threading/tightening it in.
I call up KO Racing, order their very nice brass M18 to -3 AN male-to-male adapter. I wait several days for it to arrive. I use the interim time to keep trying to soak up the oil stain with kitty litter. No dice - evidence of my latest ecological disaster is permanently etched into my garage floor.
Last night, I installed KO's adapter (took a long time - it didn't want to thread in; had to use a lot of elbow grease and it stopped about 3/4 of the way in), put the -3 line back on, topped off the engine oil (I'd lost at least 1 1/2 to 2 quarts) and got ready to fire it up again. I was confident everything was good now, but just in case, I stuck an oil pan under the car.
Fire it up. Car starts. No oil pressure. WTF??!
Look under car. Same torrent of oil (this time mostly hitting the oil pan). I am pissed to the Nth degree. I go to bed angry and oily.
I spent most of today at work, not actually working, but pondering how that much oil could be getting past some slightly boogered-up threads. I research teflon tape and pipe dope on Google. I type angry emails to car friends about how much I hate project cars, and that I'm taking up needlepoint instead.
I decide that my last hope is to try some pipe dope - maybe that will get it to seal correctly.
Tonight, just to make sure that the adapter connection is the source before I go to Home Depot for pipe dope and then tear into it again, I ask my wife to crank the car for me while I lay under it and confirm where the oil is coming from.
She cranks it. The geyser of oil commences a second after it catches. I scream, "shut it off!!!"
I'm dumbfounded.
The oil is not coming from anywhere NEAR the block to the oil line feed. It's gushing out of some very sizable opening in the block - ABOVE where the oil line is installed. I can't tell from where right away. Then it hits me.
Take a look at this picture of my engine after the rebuild . . .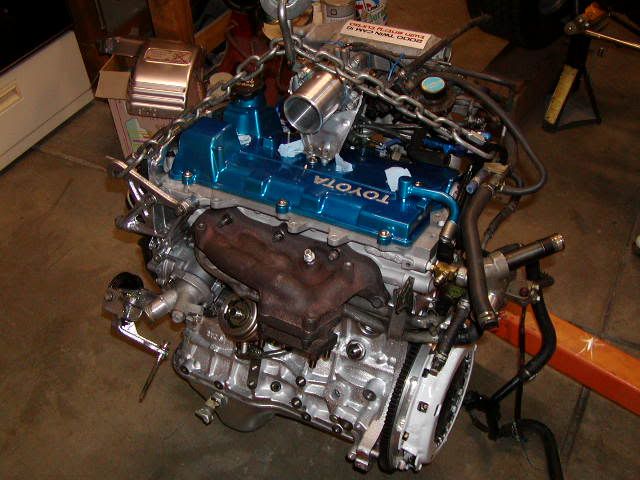 See where the chrome Greddy oil line adapter is installed, just below the freeze plug?
And see that blind threaded hole in the block - about 2 1/2" lower?
Yup . . . when I re-installed the new line, I felt around on the block, found the lower, blind threaded hole, and figured "that must be it." Whodda thunk there would be TWO 18M/1.5 threaded openings on the block?
Gee. . . it's all making sense now. The new line that was mysteriously 2 1/2" too short. The fact that I couldn't thread in the KO adapter all the way (it was probably bottoming out in the blind hole).
I spent the last 4 hours tonight cleaning up oil spills (again), uninstalling the oil line and adapter from the wrong location, and reinstalling it into the right hole. The oil line is way too long now of course. Screw it.
I topped off the oil. Visually and mentally checked my work. Prayed to every god I could think of, slide the oil pan back under the engine, hopped in and started it.
Oil pressure builds 1/2 second after the engine starts - just like normal. I get out, look under engine, no waterfall of oil. Hallelujah!
It's just amazing how much easier it is to develop oil pressure without a 3/4" HOLE IN THE SIDE OF THE ENGINE BLOCK!!!
Now, hopefully I didn't do too much damage to my turbo bearings by firing up the car for 3-4 seconds at a time with zero oil lubrication. But if so, oh well.
It would almost be worth it, paying for another turbo rebuild - just for the opportunity to tell this true story of my incredible stupidity and inept wrenching. Once again, that old saying rings true - "when you assume, you make . . . "
Tonight, I learned "don't assume there's only one potential place a turbo feed line can screw into an engine block."
I'm going to bed now.