As i turned 33 i became a bit frustrated - the Stis i had on my watchlist all were sold at that Weekend and the M3s were rubbish..no other cars in sight i had to do something..
i needed something special..and rare..something for my deuce (some of you might remember shiny gen4 built)
I was in contact with a seller about this Thing for about 1.5 years..what a coinsidence that my bud went for a ride and passed through the German/Netherland borderlands with his CLS and some room in the car for this part!
What can i say - Looks handcrafted by Gimli and polished by Elrond.
The welding seems to be perfect.The parts are incredible light and finished to a level of perfection that let me speechless
Will post Weight and Fittment soon!My buds also work on the Translation of all the paperwork that came with it.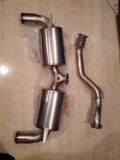 http://www.ganador.co.jp/products/vertex/gd-732.html