Discussion Starter
·
#1
·
Well I took a gander down to Lotus of Scottsdale today to see what they had in stock and go test drive an Elise (since I haven't driven one before).
Wow. Their showroom is BEAUTIFUL. Millions of dollars worth of cars... it's hard to describe but I'd rather hang out there all day instead of Barrett-Jackson! Mostly because they were almost all mid-engined exotics mmm.
So anyway, the salesman saw me and promptly ignored me (wasn't expecting much of a greeting as I showed up in my Toyota Tundra). I went up to him and said: "Hi, are you Dan?"
Him: "Yes I am, how can I help you?"
Me: "blah blah blah, name drop, blah blah blah own my own business blah blah blah looking for an Elise"
Dan: "Ah, how soon were you looking to get into an Elise?"
Me: "Whenever I found the right one."
Dan: "Ok, follow me!"
And that's were the trouble started. Behind a vintaged painted Ford GT and a Lamborgini Gallardo sat my PERFECT Elise
Starlight black exteriour, biscuit interior, hardtop, touring package, star shield. Everything I wanted in the car and nothing more.
Dan: "We usually don't offer test drives until the customer is ready to buy... but you sound like you know what you're doing so lets take one out shall we? I have one that's broken in already so you can get on the gas a little."
Me: "Sweet."
We go further back into the shop and I see a topless Saffron yellow Elise with a Lamborgini Diablo, a Ferrari F360, and a Ferrari F430 (!!!) in front of it. They start up the Diablo and the 360 (freakin' sweet) to move them out of the way but sadly just just rolled the 430 back (I asked them if they could start it and promptly got denied) to get the Elise out. Finally it was free and we went on a little spin. I tried not to hit any of the cars that cost more than my freakin' house on the way out, and away we went : )
The car is exactly as I dreamed it would be. The shifter feels nice, the engine is strong, and the suspension is simply amazing. The brakes felt a bit mushy, but there is a fix for that on the Lotus forums. Other then that, it's a spectacular car. Getting in and out is an amusing bit of fun, but it's something I could get used to
Right when we get back, the salesman offers insult to injury. He's like: "Well since this black one is a left over 05... I can offer a bit of a discount... how about 5k off?"
Me: "Nooooooooo I didn't want to buy anything today!!"
Dan: "Well I don't want to force you into it, but this color combination is rare."
Me: "I know!!! *labors over it for awhile*"
Did I buy it? No.
It would be a stupid financial move as my new house is getting closer to completion and I have a $2100/month mortgage looming over my head =( Man. Once the new house is built and I'm settled in... I'll be returning to claim my baby. hehe. I'm aiming for the end of summer right now to be in an Elise. Maybe when it starts getting colder next year around other areas of the country is when I'll pick one up... but for now... it remains a dream.
Oh yeah... one other thing about this car: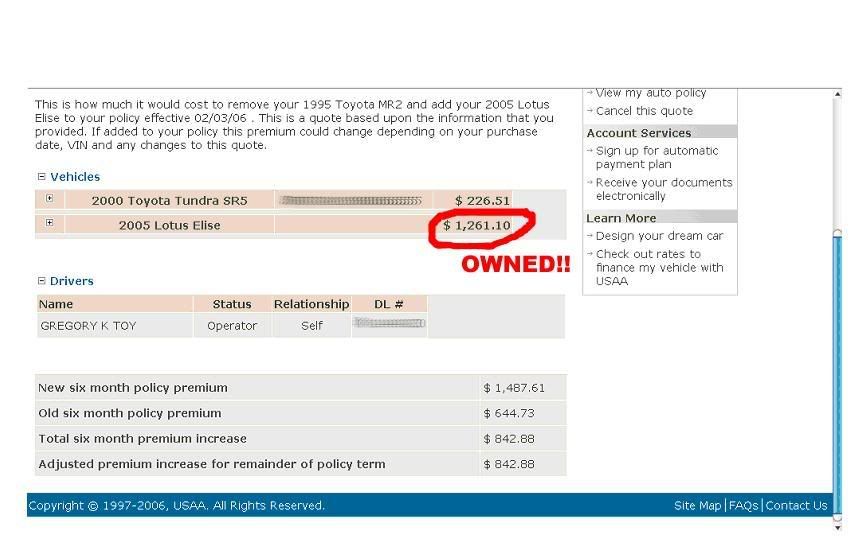 Nice.