This weekend I pulled the coilovers off my MKI (custom setup using standard MKII Koni Yellows) and ran them on my shock dyno. More details on that here:
https://www.mr2oc.com/showthread.php?t=570297
First, the rear: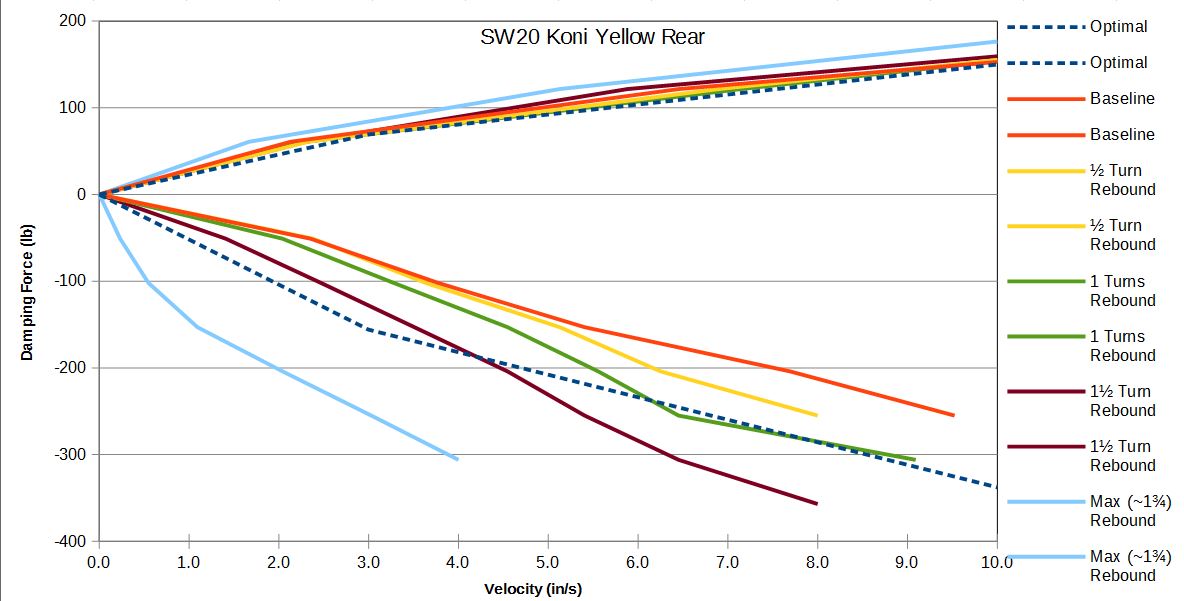 The "Optimal" curves are for the rear of an MR2 (roughly 750lb per corner) with 400lb springs, and were generated using the equations found here:
http://www.optimumg.com/docs/Springs...Tech_Tip_4.pdf
, with a damping ratio of .65 and a high/low split point of 3in/s.
As you can see the compression damping lines up nearly perfectly for this spring rate, and rebound matches up reasonably well depending on adjustments.
However, this begs the question, if the compression damping is "perfect" for 400lb springs, what about those running Konis on stock springs? Two things. One, in a "compromise" situation like with soft stock sprigns extra damping can, in a sense, be substituted for spring rate. It won't change the max roll angle achieved in a steady state situation, but it will make it take longer to achieve that roll angle, and so in transitions it will feel stiffer. Two, it isn't all that far off. With 210lb stock and a damping ratio of 1 (critically damped) instead of .65, it lines up pretty much perfectly.
As with the Race inserts that I dynoed a couple of weeks ago, there is very little cross talk from the rebound adjuster into compression. A very slight amount at full rebound, but in their defense, I never actually
tried
the race shocks at full rebound. They may well have done the same.
The first half turn of adjustment does very little, especially at low speeds, but beyond that the adjustments are useable. And very repeatable. I went back and re-tested a few of the settings and the data points were matching up pretty much exactly.
One thought I have on these is that they seem to be lacking in low speed rebound damping, and until you get to pretty much full stiff they are quite linear in rebound, instead of the generally preferred digressive shape. However, these struts are about 6 years old, and have been through quite a lot over the years, so it is possible that they aren't a 100% accurate representation of a brand new shock.
In terms of max spring rate, using this particular theory for "optimal" damping the rears should handle 500lb springs pretty well, but above that is really pushing it.
Here's the comparison of the two rear struts at three different adjustment points. Very close at full soft and 1 turn, a bit further off at higher rebound. And one is a bit softer than the other on the bump side. Shock that I posted above is shock "#2" in this graph. To get these to match up to my optimal curve, the adjustment is about 1/4 turn different.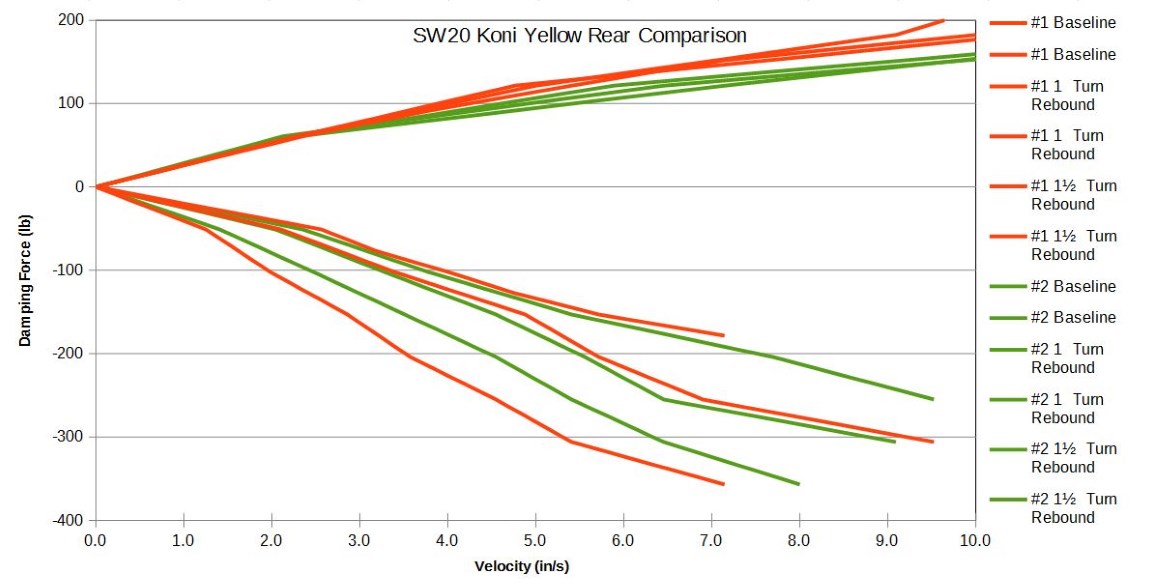 One of the fronts: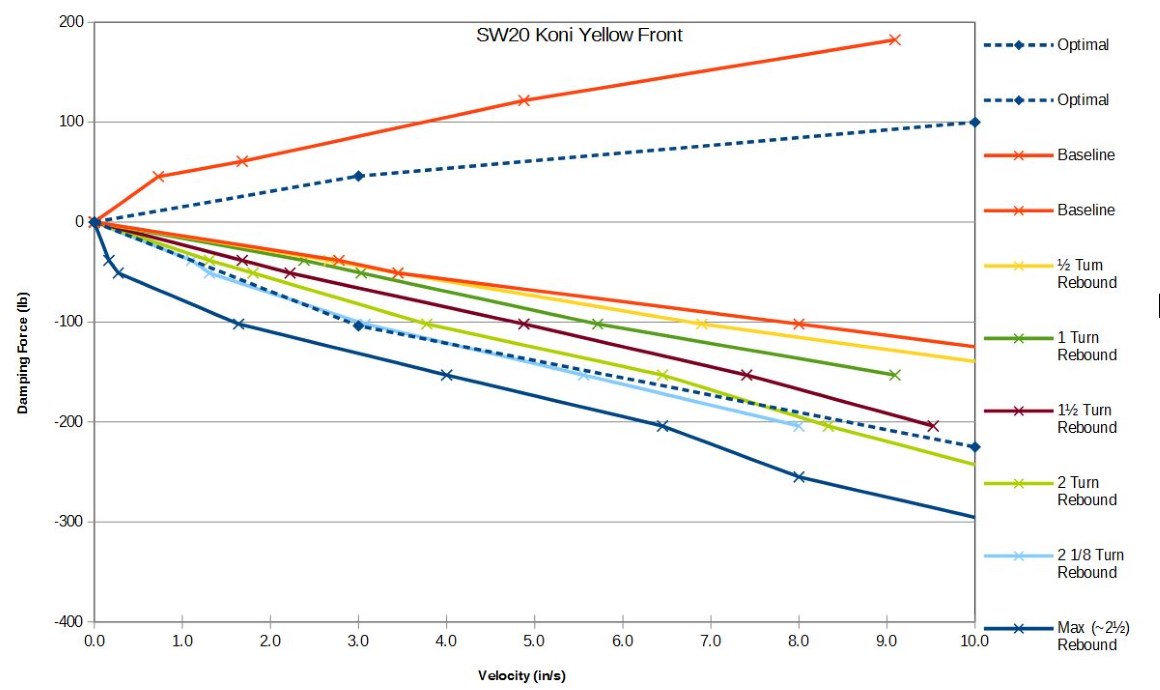 The optimal curve is for the front (about 500lb per corner), with 300lb springs, and the same damping characteristics as the other graphs.
My first thought on the fronts is that I like the
shape
of the rebound curve a little better than the rears. More low speed rebound, making it more digressive. However, I don't know nearly enough on the subject to speculate as to why Koni would have chosen to valve the rears like they did, assuming it was in fact a decision and not just "how they are".
The adjustments are nice and consistent, and even full stiff is not ridiculous. Max spring rate on the rebound side appears to be about 400lb. Interestingly, the compression damping matches up with about an 800lb spring. Apparently Koni valves their Sport shocks with significantly more compression damping than the formulas I am using would suggest is appropriate.
Unfortunately, I discovered that one of my fronts is non-functional and needs to be replaced, so I wasn't able to get a comparison for the fronts. However, once I get a replacement I will be able to dyno a brand new front strut, which should be a worthwhile data point on it's own.
Downloadable calculators with this data are on my website, so you can plug your spring rates in and see exactly where they overlay on the shock force plots
Bottom of the page:
https://wilhelmraceworks.com/koni-shock-dynos