I did a quick search here and realized that there isn't a write-up on rebuilding a 4age distributor here, so I thought I'd share with my first post.
This is applicable to 4age, 4agec, 4ageu, and 4agze distributors IIRC.
Enjoy,
Andrew
p.s. - BTW, only being able to do 5 images a post is a pita...
__________________________________________________________________________
Ok, a couple weeks ago I had the bearing sieze in my Toyota Corolla (ae86) 4age/4agec distributor. A more common problem is the inner shaft seal in the distributor going bad and oil leaking from the distributor. This write-up will fix both issues.
I then remembered cruising one of the tech forums (dorikaze - IIRC) that said there was distributor rebuild kits available for the 4age distributors. They had previously been marketed towards the AW11 MR-2 crowd, and not the AE86 Corolla guys. Fortunately I was able to search and find the company that carries the rebuild kit - KBOX in Canada
http://www.kbox.ca
. So I go ahead and order a kit up to repair my fried distributor.
(In the mean time I swapped in an AW11 distributor to keep the car rolling. Which can be seen in one of my other posts, it's a direct swap.)
Anyways, here's what to do.
1. Remove distributor (and cap and rotor). If you need pics for this, you shouldn't be attempting it ;)
2. Drill out the 'roll pin' from the distributor gear to remove gear from the distributor shaft.
This is kind of a tricky PITA, type of deal. Since the OEM pin used is mushroomed into place, you need to carefully remove the mushroomed part of the roll pin with a drill bit that is actually larger than the part of the pin inside the shaft/gear itself. Without eating into the distrubutor gear.
Once that portion is removed you need to drill out the remainder of the OEM roll pin with a small drill bit. NOTE: do NOT go larger than 1/8" drill bit, that is almost TOO large to drill out the center. I'd recommend a 3/32" bit. Then you take a small punch and knock the remainder of the pin out of the gear/shaft. From there it should be relatively easy to slide or pry the distributor gear off the shaft.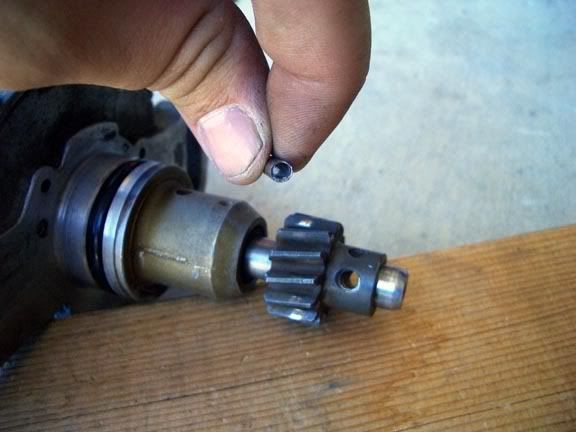 3. Loosen the screws for the distributor shaft/bearing retainers. If your having trouble getting them with a regular screw driver (and you really don't want to strip the heads of these) I'd recommend giving it a light whack with an impact screwdriver. That's what I did.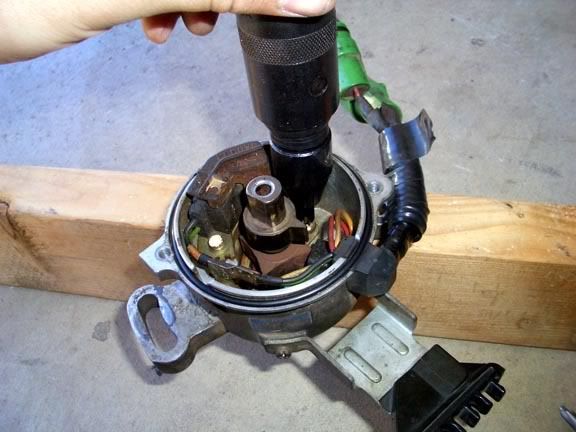 Once loose it's a cinch.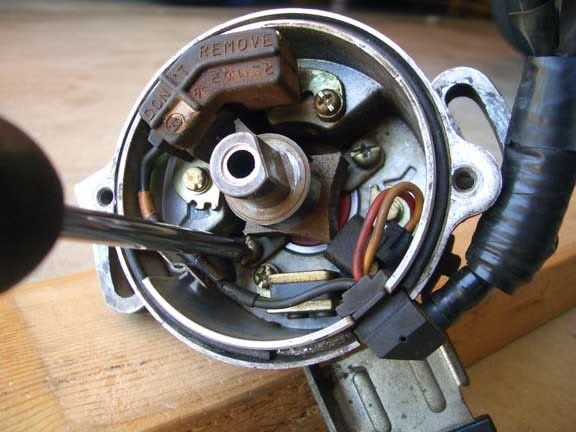 4. Now that the retainers are gone you should be able to slide the distributor shaft/stator assy out of the housing with ease.
5. Now that it's out, you need to remove the shaft seal from the center of the housing. It should look like this once removed.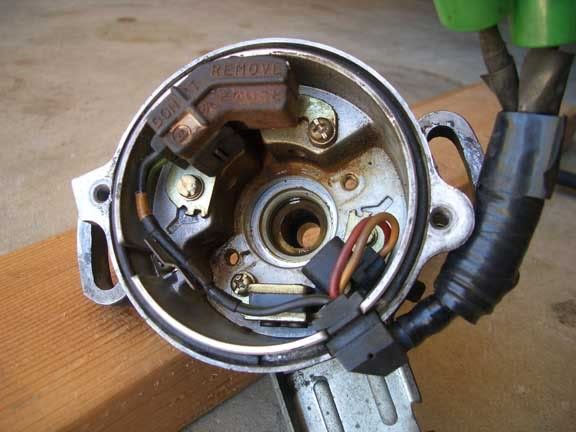 Done.