Discussion Starter
•
#181
•
Been working on lowering the S2000 driver seat. I'm kinda stuck on the foam rebuilding part of things, so I ordered some different spray adhesive and an electric carving knife that I can use and not have the wife yell at me when she catches me cutting foam with the turkey cutting knife...
But here's the progress so far:
Cut brackets and drilled spot welds off that hold back of S2000 seat pan into brackets. This is a big draw of the S2000 seats, with almost nothing underneath the pan, so you can drop it low with very little to deal with jutting into the pan:
Took a SWAG on how much I could cut the seat pan where it would interfere with the floor pan of the MR2. This is the only section that hangs down low in the back:
Can see thickness I cut out here (it's about 1" or so):
Put some brackets on that dropped the seat pan just above the slider release mechanism:
I checked the drop, and while it was good, it wasn't quite as far as I wanted it to go and it looked like minor hammer beating of the pan would only buy me ~1/4" more. I had lowered the pan about 3/4", but wanted another 3/4" or so. I ended up making new brackets that dropped the pan bolts below the slider mechanisms. For some reason I didn't get a good shot of the new brackets (was in a rush to finish up I think), but here it is with a total of a ~1.5" drop in the back and ~1" up front:
You can see I drilled a new hole and welded a new M10 nut up about 1" above the two front nuts that bolt the seat brackets to the seat pan.
Here's a better shot of the front nuts that are added to drop the front 1", and I also had to create a large clearance hump for the slider release mechanism. I cut and bent up a strip, then couldn't get it quite stable with a couple of tack welds, so I put another piece of 22 ga 304 stainless sheet to help stabilize it. The stainless sheet was honest too thin to reliably MIG weld, so it looks pretty rough. I also beat in some areas that need clearance for the slider release mechanism to rotate - again, mildly rough. But no one can see it, so the pan is done and mounted!
Time to attack the seat foam. I cut out the rough 1" section I took off the pan:
Also took off the outer bolster foam since it was completely wrecked. The S2000 seat pan has a metal rod that bends up and supports the bolster, but it will destroy the foam if a fatty keeps sliding across the small bolster and it's only reacting against this ~8 mm steel rod. It tends to cut/degrade the foam right around the rod, so it came out super easy, and this way I can cut out the degraded foam and rebuild it closer to stock strength and shape. A replacement bottom seat foam is over $300+shipping from Honda, so unfortunately, that's not in the budget, although it would save time.
I tried to glue the bolster back together, and it just didn't go as smoothly as I thought it would, so I'm going to try some new adhesive and see if it goes better.
I've thought about leather colors, and I think I am leaning towards the BMW Modena color. I think it'd pop with the MR2 Turquoise Pearl Metallic, and it won't clash with the carpet color. I want a vibrant but classy color. BMW Cinnamon looks good with darker stuff around it, but I just can't see it working great with the light carpet.
Here's some Modena examples I really like: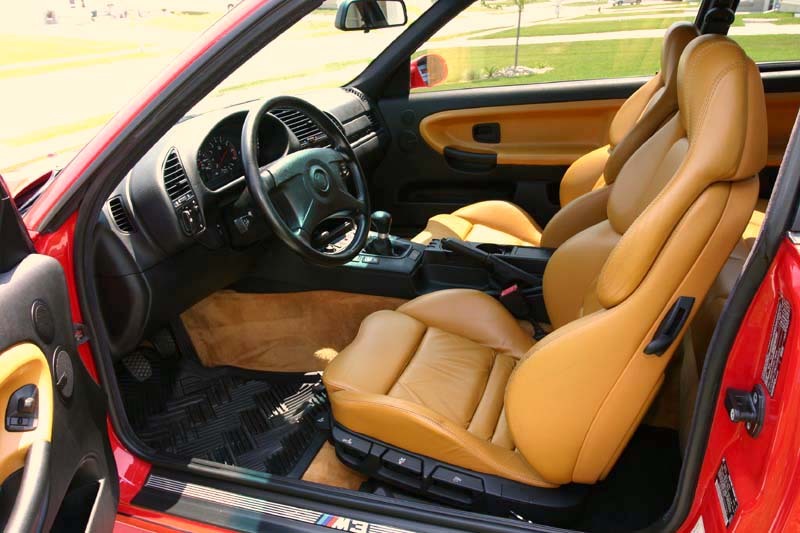 I think I'd also get some Lloyd's floor mats in a close match to Modena to tie the interior together a bit more. I have some MR2 Heaven reproduction mats, and I'm honestly not very pleased with them for floor mats. They move all over the place, and they're shockingly thin and cheap feeling. Like Wal-Mart $14.99 universal floor mat cheap feeling. I think that thin feeling is fine for the trunk mat, but I'm definitely disappointed in the floor mats. So this looks like a good chance to change them to something that's going to match the interior better and bring it all together.
Let me know what you guys think. Color changing the interior leather a decent amount (seats + leather door panels) feels like a big leap for me, and I usually don't do stuff this drastic to interiors so I do have some doubts. It feels like it'll turn out well, but I'd really hate to be disappointed in it. I guess I can always dye the leather back if it's really horrid...