I have installed the VMAX quick-ratio steering pinion in my 91 MR2. The steering gets very heavy (not enough assist) in sharper corners after braking hard. This is apparent on the street, but an even bigger issue on auto-x courses. This is caused by the EHPS ECU not recognizing the drop in speed quickly enough to bring up the pump power level. Even unmodified cars have this problem, but it is less noticeable with the stock ratio rack.
Toyota addressed this issue in later model years, beginning in 94 (or possibly 93). IIRC, the EHPS updates also reduced the assist at high speed.
In my car, I installed a 94 EHPS ECU & pump motor. I no longer have problems with heavy steering as described above. The steering works great. This is not a complete plug-n-play solution, as Toyota changed the wiring slightly between 91 and 94. The wiring diagram pic below shows what needs to be done. Cut one wire and repin one wire on the ECU connector. The "MTL" wire moves from pin 21 to pin 25. Pin 25 is a larger terminal, so you'll have to cut off the old one and solder on a new one. The larger terminals are used in lots of connectors on Toyotas, so look in your parts bin, or raid a U-Pull-It yard for some connectors from a mid 90s Camry or whaterver.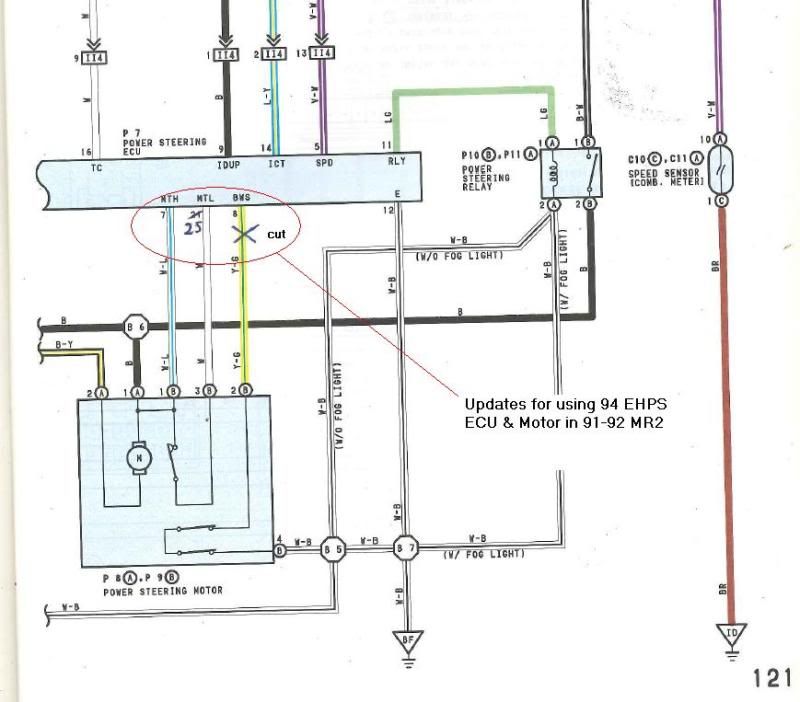 After researching the EHPS fluid issue, I choose to refill the system with Amsoil synthetic PS fluid. Working fine so far. The 1995 wiring is the same as 94. However the 93 wiring diagram does not show the MTL wire
at all
, so the 93 wiring diagram is in error, or the 93 is unique. If that's the case this may not apply there at all.