Hello,
I used to be very active on the board for about 7 years which stopped when I sold my brother my mr2 about a year ago. Since I don't actually own the car now, this thread is more for his benefit.
When I sold him the mr2, we did an engine gasket overhaul and upgraded the turbo to a brand new ATS turbo.
The problem is that we've had boost creep ever since we installed the CT27. Boost will creep up to 18psi and trigger the 3rd gen fuel cut in just about every gear. My brother has been driving the car using a light foot for a year now because of what happens when he goes WOT.
Here was the setup when we initially put it together last Christmas:
Gen2 3SGTE
ATS CT27 turbo
Gen3 EFI
Gen3 cams
550cc injectors
ATS Modified Fuel Rail
Walbro 255 fuel pump
KO Racing 3" Intake
Tial 50mm BOV with KO Racing hotpipe
Berk Intercooler
Berk 3" Exhaust with
stock cat and downpipe
(Damn TN emissions)
TwosRus MBC
ATS EGR Blockoff Plates
ATS TB Inlet
Every IC pipe connection has Berk/KO Racing couplers and constant torque clamps.
The clutch, pressure plate, and throwout bearing were replaced Christmas 09.
Things we've tried over the year (yes, it's been a year because I live in another state and we normally only take crack at it every time I visit) are as follows:
1. Removed the TwosRus MBC and connected the wastegate actuator straight to the turbo compressor nipple (like stock). You would expect boost to be limited to 9-10 psi, but we still hit 18psi.
2. Leaving the actuator configured as listed above, we replaced the stock downpipe with a modified eBay downpipe. Still hit 18 psi... Using the stock downpipe was actually a 2 part decision. We wanted to pass TN emissions but we also didn't want any problems with wastegate door clearance. Since both downpipes creep, I don't think that's the problem
3. Today we manually pressurized the wastegate actuator. Here are pictures of the results: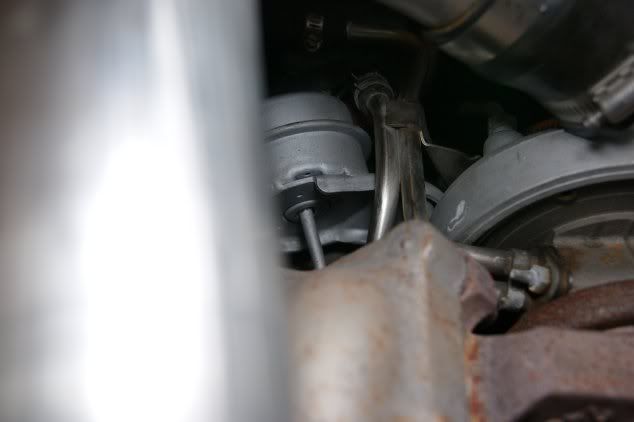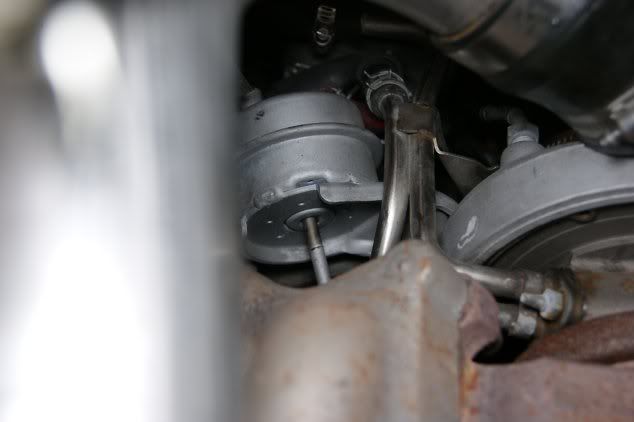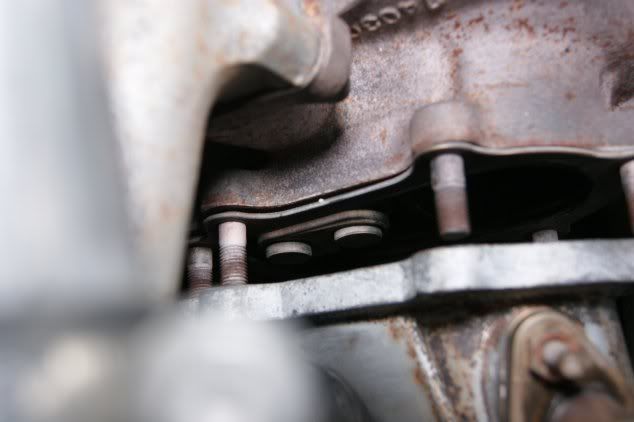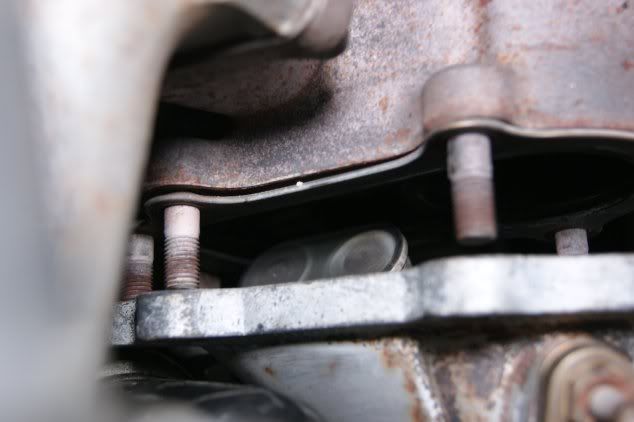 The wastegate rod only actuates about 0.5" as you can see by referencing the black sharpie line we drew on the rod. It seems like it's completely open ~15psi. The 0.5" measurement does not change when the downpipe is bolted on or pulled away from the exhaust side of the turbo. The wastegate action is very smooth and seems to be in great working order to me. The rod does not rub on anything. The T-VSV port on the actuator is securely capped and is not leaking. Finally, the compressor nipple is clear and does not appear to have any blockages that would impede its operation.
At this point I'm out of ideas. I'm pretty confident is saying that this is not a downpipe clearance problem but I don't know what else it could be.
I'm really just posting this to see if anyone out there has had similar problems and if so what you did to solve them.
Thanks for the help
Lane