It's a sad day… I've decided it's time to put my baby up for sale. I've owned my 95T for about 2 years and have daily driven it every day possible. I've put about 12-15K miles on it without issue. Due to a nasty accident (in another car, and a resulting spinal fusion), I can't give this one the time, attention or love it truly deserves. Always garaged and babied.
We can meet at my finance company in Coeur D Alene Idaho (for a local pickup) and they will release the title to you directly.
Feel free to hit me upwith any questions. include your name for response. Tom at 208-682…. Five zero 6 nine
MY USDM 95T MODS:
Engine mods:
○ CT20B turbo
○ Berkside mount
○ Berk 3inch downpipe
○ SBC electronic boost controller
○ DTT Turbo Timer
○ ATS ROM tune
○ Spearco intercooler
○ Apexi Intake
○ TKO 7" exhaust
○ MT-90 Red Line fluid change last fall
○ New Master and Slave Clutch Cylinder
○ A/C line repair and recharge
○ New main Coolant line a month ago
○ New Racer X Oil Catch Can last fall
○ New Plugs, wires, distributor, and cap last fall
Suspension/brakes:
○ Bilstein shocks
○ Eibach pro-kit springs
○ TRD swaybars and strut tower brace
○ Wilhelm Raceworks Geometry Correction Kit
○ New Poly Bushings, Inner/Outer Tie Rod's, and Ball Joints up front (Bushings and Balljoints in the Box for the rear)
○ New Brake Rotors last fall
○ EBC Yellow Stuff Brake Pads all the way around last fall
○ New eBrake cables, and freshly wire brushed, then painted calipers last fall (with black caliper paint)
○ New Accelerator cable last fall
○ New shift cables and Spherical Bushings Installed
○ C's short shifter
Cosmetic mods:
○ Toyota original keyless entry
○ SSR Integral GT1 17-inch wheels, gun metal emblems
○ New Yoko Advan Fleva tires (Rears last fall, Fronts 1 month ago)
Interior:
○ Omori 45mm boost gauge (in dash cluster)
○ New MR2 Heaven Leather Seat Covers
○ New Seat Heaters Installed
○ Runnabout Shift Surround
○ original t-top sun shades and leather covers
○ Super-Klasse C's shifter, plate, shifter Busing, spherical cable bushings
○ I've treated the t-top seals with Shin Etsu grease (no problems in the rain!)
○ Eccentric T-Top guides
○ New LED Lights in: Dash cluster, interior dome lights, reverse lights, and strobe brake lights
○ Double Din unit, amp, and sub
○ Cup holders will come with the car
My plan was to ship the car to TCS for a 2GR swap. Due to a recent injury and spinal fusion, I am no longer able to work on the car, I've chosen to go a different direction (moved up to a C8 HTC). I absolutely love this car! If it sells to another enthusiast, that's great! If not, i am totally ok with keeping it around.
Text with any questions. Include your name, and the date in order to get a response. Tom @ 208-68two… Five 0 Six Nine
FYI: Here is an old for sale post of my car. This is the guy the previous owner bought it from. The owner I got it from a couple years ago opted to stay with the 95spec wing, and did not take the 98 combat wing pictured. (I do not have it).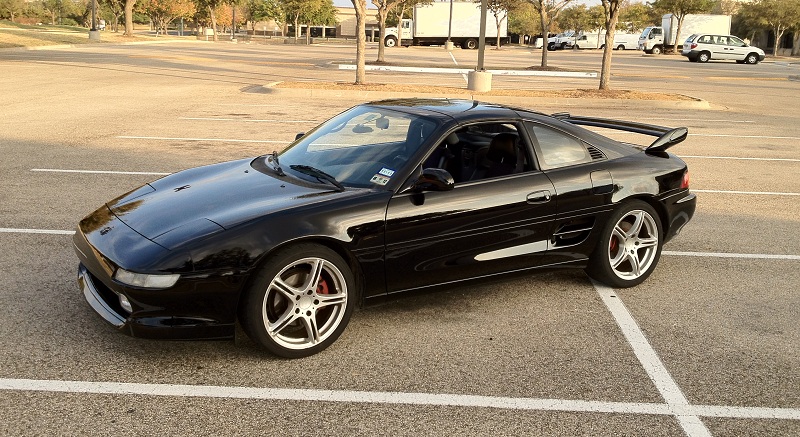 Video with 360-degree view: http://www.youtube.com/watch?v=o_P8JMp4aNo Mileage: 107,000 Color: super black Price: $14,500 Location: Austin, Texas Contact: PM me and we?ll move to email or phone I?ve owned this car for 4 years. I bought it from a great guy in Northern California (original...
www.mr2oc.com