I was in the right place at the right time and got this car for almost free. A buddy was leaving the country and offered to give the car to me as long as I pay for a tow to my house and make it a project. The tow was $140 and it needs a battery, but you can't beat that price. The history I got is promising- the car is not running and hasn't been driven for 18 months. My friend bought it from another guy that made a couple questionable mods; a body kit and a terrible paint job. But the good news is what my friend put into the driveline. This list came from him:
91 MR2 Turbo (Manufactured 01/90) SW21/3S-GTE Hardtop
JE Pistons
ARP bolts (Head studs, Mains & ARP Pro custom rod bolts)
Bored 20 over
O-Ringed, shaved & detailed block
Balanced, chamfered, polished crank, rods… (Automotive Balancing)
Mild porting/polish & deck
RD valve springs, 8500 RPM
3 angle valve job (head done at West Coast)
HKS triple layer metal head gasket
HKS cam timing gears
Supra fuel pump
Supra 550cc injectors
HKS VPC vein pressure converter
HKS mega-flow intake
G-Force ECU daughter board, tuned by Tadashi @ TechnoSquare (12# boost)
Turbo: Toyota CT26 body w/ compressor bored & Turbonetics 60-1 wheel (kit)
Blitz dual solenoid boost control
Blitz blow-off valve
Greddy turbo timer
Custom down pipe & exhaust
HKS muffler plus straight pipe
ACT 6 puck clutch/Pressure Plate
JUN ultra light flywheel
KAZ Power pot LSD
Trans rebuilt inc. new syncros when diff installed
GCK axles
Tokico 5 way adj. struts
H&R springs progressive
TRD sway bars
TRD quick shift
Gauges: ECT, Volts, Fuel level, Fuel Pres, Boost, EGT, Oil temp, Oil pres.
Dash mods (gauges replace clock, volts replaced stock boost) & Pillar pod (2 gauge)
The car is really dirty but that's an easy fix. Over the last couple weeks, I've put a solid 20 hours into it- going through the wiring, vacuuming the interior, going through the engine bay, ordering a few little things like a couple small interior pieces, battery, filters and fluids. After a few hours in the engine bay, she looks like this.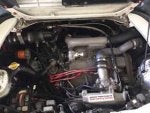 Today I found the distributor cap was bad; the main contact is broken and the wire won't connect from the coil. That's now on order as well. Battery is installed, stereo works, starter works, turbo timer works, and I have fuel pressure. Going to need tires & registration before I can stretch her legs!
Sent from AutoGuide.com Free App